We all went into this season expecting the Lions to, at the very least, push for the NFC North title. A talented team with added depth on the defensive line, vast improvement at linebacker and offensive line, and finally having a true blocking tight end. There was high expectations for this team, no doubt. I'm guilty of it, and nearly every other Lions fan is too. There may still be high expectations for this team, but even the optimist in me is having trouble coming to any conclusion that this is a team that can compete.
The loss to the Ravens further proves this. The defense made a Ravens offense, that came in ranked last in the NFL, look like it was lead by Tom Brady or Aaron Rodgers. Now, not to discredit Joe Flacco, he's a halfway decent quarterback, but come on. He's no Brady. He's no Rodgers. He's not even better than Blake Bortles. There were lapses in defense, but one particular play sticks out. A crucial third-down that the Lions had just 9 men on the field.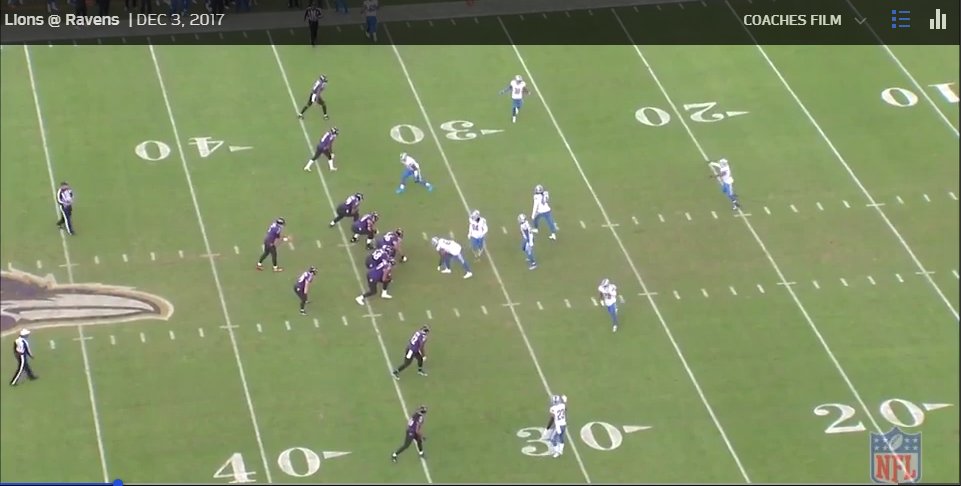 Count 'em up. There's 9 Lions defenders on the field. Now, this isn't to any fault of the players–well, maybe a little, but that's neither here nor there. This lapse is the perfect segway to my next point.
The coaching this year has been downright terrible. A majority of this falls on Jim Caldwell, but the once phenomenal Teryl Austin seems to have fallen of his perch and now coordinates one of the worst defenses in football. The talent level is certainly there to perform for this Lions defense. For whatever reason though, this team struggles to generate a pass rush, and is one of the worst at it in recent memory. Now, some of this may fall on defensive line coach Kris Kocurek, however, he's helped turn relative nobodies into relatively large contributors the last two years with Kerry Hyder Jr. and Anthony Zettel. There's no reason to believe this falls solely on Kocurek, and he will hopefully keep his job for years to come. A majority of the blame should fall on Teryl Austin. For whatever reason, the man just cannot seem to scheme a successful defense anymore. And by anymore, I mean every year he's been in Detroit except the first. There's really no rhyme or reason to it-they've just been unsuccessful while Austin has been the defensive coordinator.
It's hard to say who a potential defensive coordinator replacement may be if Austin is fired, as I feel he should be at the the end of the season, especially when you have to factor in Jim Caldwell's job and how secure it really is (or isn't). You have to look at position coaches, and I feel that Detroit may go with a linebackers or defensive line coach this time around. Jaguars defensive line coach Marion Hobby could be an intriguing option. Boasting one of the most lethal defensive lines in the NFL, Hobby could help transform the Lions defense as a whole, but particularly the line. Another defensive line coach that could be on the radar is the Chargers' Giff Smith. Again, a phenomenal defensive line, though this time arguably the best in the NFL, Smith could also help improve the Lions defense, and like Hobby, help improve the defensive line greatly. It wouldn't be right if I didn't include Kris Kocurek on this list after having praised him earlier. Kocurek could do a nice job with the defense, and bring a new work ethic to a team that, quite frankly, lacks some. He knows what the current defensive line players bring, and would give better insight as to who could play well if brought in. The Lions bringing in a linebacker coach to be the defensive coordinator is, quite frankly, unrealistic. Tahir Whitehead has played well this year, and done much better in pass coverage. And Jarrad Davis has had the typical rookie woes that you'd expect. The linebacking corps isn't necessarily a strength, but it isn't a weakness, so bringing in a coach whose main focus would likely be the linebackers isn't very realistic.
Now the head coach. I've been one of Jim Caldwell's bigger supporters, and thoroughly believed that he could get the job done. However, having blunders in the last three games with not sending enough defenders onto the field, and having it be a recurring theme is just one of many issues. Caldwell's never been great at time management, we knew this coming in though. The last two seasons, the Lions have inexplicably collapsed in the second half of the season. The run game hasn't ever been great under Jim Caldwell either, and while at least some of that falls on the offensive coordinators, it does fall on the head coach as well. A quote from Golden Tate after Sunday's loss to the Ravens even suggests Caldwell is losing the locker room too.
Golden Tate: "This is something I haven't felt from this team since I've been here. Typically, we've done well late in the season. … Just don't have that feeling this year. It sucks."

— Chris Burke (@ChrisBurkeNFL) December 3, 2017
Now, he's not explicitly saying that the team is losing faith in the coaching. Though, it's never good to hear a player say something like this, especially one of the better players on a team, and usually implies the coaching is losing the locker room.
I've very recently jumped on the "Let's maybe fire Jim Caldwell, maybe" train. I do like the replacement candidates though. As previously mentioned, the Jaguars have boasted one of the best defensive lines in the NFL this season, but they've also played some pretty darn good defense as a unit. Their defensive coordinator, Todd Walsh, will definitely be worth a look in the head coaching search, if the time comes. The Jaguars are the best defense when it comes to both points and yards against. Those are some pretty alright numbers if I do say so myself. It wouldn't necessarily be easy to lure Walsh away from a Jaguars team that is somehow pushing for the AFC South title, but with a Detroit roster that is 10x better on offense, and a few pieces away from being equals on defense, the job should hopefully be tempting. Seahawks defensive coordinator Kris Richard may also be a good candidate. Though, again, maybe a little hard to lure him away from a great situation with his current team, you'd certainly hope that the title of head coach, as well as a much better offensive team would be enough. The Seahawks are a top-10 team in terms of yards against, and while they aren't a great scoring defense, a lot of that can be attributed to a depleted secondary. Despite the depleted secondary, Kris Richard is still managing to help lead this team to an impressive season on the defensive side of the football.
It may very well be time to let Bob Quinn bring in his own head coach, and truly show us what he can do as GM. So much of this team was inherited, but you're certainly able to tell where Quinn wants to take this team, and what his main focuses have been in the two free agency periods and drafts he's been apart of. Let's just hope that time to make his complete mark on the franchise comes this offseason.